Posted on January 10, 2014
Photos: What Dispossession Looks Like
Gilbert Cavanaugh, American Renaissance, January 8, 2014
Along with the rest of America, Minneapolis has become dramatically less white over the last two decades. The percentage of Hispanics almost quintupled between 1990 and 2010 from 2.14 to 10.47 percent. There has also been a massive influx of Somalis, though it is hard to know exactly how many have come. There is no category for them in the census, and estimates of the statewide population range from 35,000 to 100,000. Ahmed Ismail Yusuf, author of Somalis in Minnesota, says the number cannot be lower than 60,000.
The majority of Minnesota's Somalis live in Minneapolis, but again there are no firm numbers. Estimates range from a low of 14,500, or about 3.8 percent of the city's population, to a high of 40,000 or 45,000, which would mean there are almost as many Somalis as Hispanics — or a even a few more.
What follow are some images of what is so frequently and innocuously called, "the changing face of Minneapolis."
These pictures were taken mainly in three Minneapolis neighborhoods: Cedar-Riverside, Seward, and along Lake Street, a major road that serves as the border for many different neighborhoods.
One sure sign that whites are being displaced is the number of murals. The more murals, the worse the neighborhood.
If murals call for an end to the violence you know the neighborhood is very bad.
Writing "2" instead of "two" hardly makes this wall a paean to education.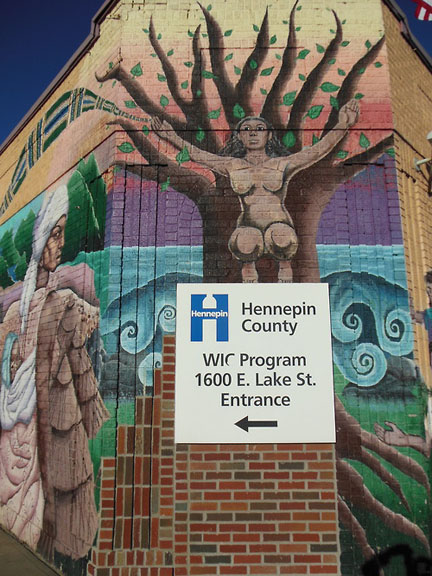 This mural evokes some sort of non-white pride — Hispanic? American Indian? — next to a sign that tells where to get government food through the W.I.C. (Women, Infants, and Children) handouts program.
Much of the "wall art" suggests that Somali immigrants come from a brightly colored paradise, whereas most of them come from a hell of their own making.
Another irony is the frequent depiction of sunny climates, whereas Minnesota is freezing cold several months out of the year.
It's hard to imagine anyone taking pride in this mural.
This statue is not identified, but it appears to be of the leftist revolutionary Emiliano Zapata.
Though people rarely talk about it, Hispanic immigration is greatly changing the nature of religion in America. This sign is for the Iglesia Nueva Raza, or "New Race Church."
Most of the buildings are still American but what is inside has changed. This eatery is close another one that recently hosted a fatal shooting.
There are several small Mexican "religious" or "Catholic" shops. Along with figurines of Jesus, angels, etc, this one sells potions for everything from expelling demons to maintaining erections. It also sells statues of Jesus Malverde, the "narco saint" or "generous bandit."
Perhaps a Mexican rap group will cover "It's Free, Just Swipe Your EBT!"
Somalis are also big users of EBT.
Somali women are always covered from head-to-toe, even when they go swimming. The YMCA in neighboring St. Paul offers special Somali girls-only swim sessions.
Islam is widespread.
"Hajj" is the pilgrimage all Muslims must make to Mecca, and advertisements for cheap flights are common in Somali neighborhoods.
Somalis bring their own fashions.
There have long been efforts to strengthen Somali family and community, but they were stepped up dramatically after a 16-year-old Somali killed three other Somalis a few years ago.
Some people defend Hispanic immigration because they like Mexican food; not many Americans like East African food.
"Halal" is the Islamic equivalent of "Kosher." Shops like this one are often referred to as "Halal-marts."
Assimilation of sorts.
Although Spanish is foreign, and predominantly spoken by non-whites, it is a European language. Somali is completely alien, and has used the Latin alphabet only since 1972.
Rumor has it that a Somali gang war is brewing.
Somalis are adopting American-style consumerism.
Although Abdi Abdulle lost the race for City Councilman in Ward 9, the victor was a Hispanic, Alondra Cano, who "built diverse coalitions to promote immigrant rights," and "launched the city's first Latino Engagement Task Force."
In 2011, Mr. Warsame founded the Citizen's Committee for Fair Redistricting, which successfully changed the borders of Ward 9 so as to create a safe district for Somalis. He then ran for councilman from that ward.
When he sought the DFL (the Minnesotan equivalent of Democrats) nomination, Mr. Warsame highlighted his main opponent's homosexuality. Before the general election, his supporters distributed flyers accusing an opponent of racism. He won by a landslide.
White "Socialist Alternative" candidate Ty Moore narrowly lost to a Hispanic Democrat, Alondra Cano.
Minnesota is very leftwing. There is more than one progressive, volunteer-run, non-profit bookstore in Minneapolis, although all their customers appear to be white.
The "No White Tees" sign is at the front entrance of a somewhat fancy Mexican restaurant/bar/club called "El Nuevo Rodeo." The purpose of the sign is to discourage blacks from the decidedly less fancy black bar next door, and the 24-hour Denny's across the street. Tensions between the customers of these three places can run high, and since Minneapolis does not permit smoking in restaurants patrons are forced to see each other outside. On Saturday nights in the summer, as many as four squad cars linger on the corner of 27th and Lake Street to keep the peace. When Betsy Hodges, a white Democrat, won Minneapolis's mayoral election last November, El Nuevo Rodeo hosted her victory party.
This is a shelf is in the Central Library, which is changing with the times. It is guarded by police officers and security cameras.
These two pictures are of Franklin library, which also has cameras and police officers.
This curious "pillar of diversity" sits in an empty lot between a Somali convenience store and a bar. It is also across the street from notorious public housing known as "the crack stacks," which has a tenant's group headed by Councilman Warsame.
Everyone knows Midtown is dangerous. The statistics are available here.
Minneapolis advertises ctizenship just as it does WIC and EBT.
Spanish and Somali on one sign: an increasingly common sight.
The home page of the Minnesota Department of Health has only a small link on a sidebar for "Translated Materials." That link leads to separate sections for 17 different languages, including Karen, Nepali, Oromo, and Tibettan. The page for W.I.C. has "Informacion en Español" and "Information in Somali" right at the center.
The diversity at South High School exploded into a riot last February between Somalis and American blacks. The left said it showed that Somalis need to be made more welcome. Neoconservatives saw it as an opportunity to show that Islam is a danger to blacks.
There is no Spanish on this sign; only a linguist could recognize all three.
This is just blocks from several Somali shops. There are no more Vikings in the area. This is what the end of white America looks like.