Posted on July 10, 2020
Could America Become Like South Africa?
Dan Roodt, American Renaissance, July 10, 2020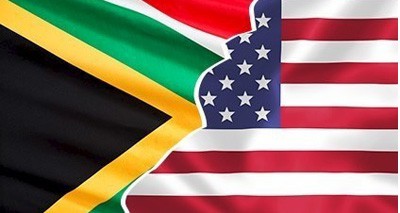 After my latest article on American Renaissance, some commenters wondered whether the calamity that befell white South Africans could repeat itself in America. In light of current events, and with some qualifications, I would say "yes." I nevertheless hope that Americans can learn from our mistakes and avoid our fate of being subject to black rule.
To borrow a phrase from quirky French novelist, Michel Houellebecq, we are witnessing an "ideological revolution." Christianity supplanting paganism was such a revolution, as was the rise of Islam in the seventh century. More recently, the various communist cults of Marx, Lenin, Mao, Castro, Pol Pot, Mengistu Mariam and others gave us a glimpse of modern ideological revolutions, in which an idea is foisted on the population and dissidence often means imprisonment or death.
I just got a message in my inbox from Flickr, which offers cloud-based storage for photographs. "CEO and Chief Geek," Don McAskill wrote: "Photographs have continually shown us that systemic racism against black people in America is real. We will stand against that racism however we can. Protecting black lives shouldn't be divisive. It's not an 'issue.' For our black community, it's a matter of living and dying."
Mr. McAskill notes that black photographers and those "who are creating and documenting recent activity around fighting racial injustice" will get free Flickr Pro accounts. He adds: "[W]e believe photography has the power to change the world, and we believe this moment, this movement, is historic."
Major tech companies in the US have by now pledged an estimated $1 billion to $2 billion to BLM. I am reminded that a few hundred million dollars dished out by Sweden to South Africa's ANC helped topple our old government, despite its powerful military and police. Propaganda, or what military strategists call "winning the hearts and minds of the enemy," is often more powerful than the force of arms. In the words of Sun Tzu: "[T]o fight and conquer in all your battles is not supreme excellence; supreme excellence consists in breaking the enemy's resistance without fighting."
During the 1980s, the last South African president to offer any resistance to Marxists and Africanists was P.W. Botha. He coined the term, "total onslaught" to describe the offensive against us, which included cross-border terrorism, inciting riots and sedition, economic and financial sanctions, and — most important — propaganda.
Many white Americans probably think they need guns to fight this war. We also thought we needed guns — and tanks and helicopters and fighter planes. Because of boycotts, we couldn't buy all the weapons we wanted, but we developed the best artillery in the world. Our G5 and G6 cannons could strike at distances of 120 km, and could fire tactical nuclear warheads. However, in the end, we were conquered without a single cannon shot. Naturally, there was violence: bloodshed, terrorism and so on. We fought the Russians and the Cubans in Angola, but there was never an actual war on South African soil. The real battle was non-military, psychological, and ideological.
There are remarkable similarities between Black Lives Matter and the former Anti-Apartheid Movement that laid South Africa low. In fact, one could draw a line from the Anti-Vietnam War movement to Anti-Apartheid and then to Black Lives Matter. Many of the same people, institutions and media have been involved in all three.
White "racists," black victims
One of the most obvious ideas of all anti-white groups is that whites are racists and blacks are victims. This is dogma even when statistics show that whites, as in South Africa and America, are overwhelmingly the victims of black violence and not the other way round. White depravity now includes a whole panoply of invisible, implied, and even unconscious racisms. In both the US and South Africa, racial disparities in education, wealth, and even measured IQ between blacks and whites are ascribed to oppression.
In addition, the so-called "whiteness" ideology propagated by universities claims that to be white is a condition that must be cured. If whites are to have a racial identity, it is to be one of apology and certainly not pride. Black racial identity, on the other hand, almost by definition includes anti-white animus. As Jericho Brown, the Pulitzer-prize winning poet of 2020 put it: "No such thing as good white people." As a white admirer of Brown notes, "even the most well-meaning white person, eager to implicate themselves whenever possible, does so to make themselves more comfortable with their privilege."
Oh, yes. Privilege. Presumably even a jobless South African white, unemployable because of his race and languishing in one of our white squatter camps, would still have "white privilege" if only because other whites might feel sorry for him. Whites are not supposed to sympathize with other whites, only with blacks. Liberals are good at this: They dismiss South Africa's vicious farm murders as an "extreme-right issue." "Crime affects everyone," they say.
Americans are the new South Africans
Within South Africa, many whites blame our current troubles on F.W. de Klerk's betrayal. He sold us out by capitulating to the ANC, and there is certainly some truth in that. However, it is only over the past few years that the full details of the "total onslaught" against South Africa in the 1980s have emerged. An international network of leftists, financed by governments, churches, and NGOs were part of a constant media campaign to undermine the South African government.
Much of what we see now in relation to the Trump administration looks similar. Most of the mainstream media, not only in America but globally, scorn Donald Trump and his white supporters. Americans are the new South Africans that everybody loves to hate. When I catch a glimpse of TV in France, the Netherlands, or the UK, journalists and commentators fulminate against American "racism" and "police brutality." If anyone ever mentions black crime rates, it is to explain them away by "slavery and centuries of oppression." Just as everything that is bad in South Africa is still called a "legacy of apartheid," liberals will be blaming American whites long after they are a minority.
The United Nations played a key role in the demise of white South Africa, and that organization is profoundly hostile to Donald Trump. On June 19, it blasted the United States:
The UN's top rights official, Michelle Bachelet, is to spearhead efforts to address systemic racism against people of African descent by law enforcement agencies, the Human Rights Council decided on Friday. The resolution — decided unanimously without a vote — follows a rare Urgent Debate in the Council earlier in the week, requested by the African group of nations, following the death of George Floyd in the US state of Minnesota.
As they did with South Africa, "some delegates [called] for an international probe to investigate killings of black people in America, and violence against demonstrators."
Recently, the undeceived French author and commentator Eric Zemmour noted that BLM riots had broken out in many countries, except that in some, such as Germany, they were "running late." This is like Lenin's notion of "uneven development," with the communist revolution at "different stages" in different countries. The West is being conquered, but more quickly in some places than in others.
South Africa is the Western country that leads the pack. We got the most extreme forms of black supremacy and cultural Marxism, but the ANC regime is showing so many signs of weakness it may have almost passed the low point. Elsewhere in the West, including America, the anti-white movement is still ascendant. If the US gets a Democrat president and Senate, it will be nearly "game over" for whites. There would be a flood of immigrants as well as legalization of uncounted millions of illegals who would become instant Democrats. Whites could then face what we face in South Africa: exclusion from jobs, government contracts, and from majority-ownership of companies.
A top-down movement
The current movement associated with Black Lives Matter is — at least for whites — top-down, driven by elites in government, academia, and the media. Again, South Africa is an instructive example of how that works.
Until the early 1980s, very few blacks opposed the South African government. More than 90 percent of South Africans had never heard of the ANC or the South African Communist Party. The only people involved in the so-called "struggle against apartheid" were Marxist professors at the English-speaking universities (Afrikaans universities were conservative and had almost no non-white students), a handful of journalists, and student radicals.
The same thing is happening in America. A recent Pew Research poll found that only 6 percent of Americans had attended a BLM rally or protest, but 46 percent of that group were white. Young, college-educated, Democrat-voting women were especially overrepresented.
America's corporate elites solidly back BLM, and media support for an anti-white revolution is unwavering. On the Fourth of July, Donald Trump reflected the views of many whites when he said: "Angry mobs are trying to tear down statues of our Founders, deface our most sacred memorials and unleash a wave of violent crime in our cities. Their goal is not a better America, their goal is the end of America." The entire Washington Post editorial board united to call this "an obscene misinterpretation" of the movement, and fretted that the president had "plumbed new depths of depravity."
Black mobs serve as "stormtroopers"
Rioting and looting mobs can be seen as "stormtroopers" for the liberal cause, just as they were 50 years ago in South Africa.
I recently got a letter from a white Afrikaner lady who was present at the outbreak of the infamous Soweto riots, which I wrote about here under the title, "Soweto — the true story of 16 June 1976." Most, if not all black riots are destructive, nihilistic, and contradictory in message, if there is a "message" at all. But such riots serve a very important function in that they create "political theatre," which in turn provides "teachable moments" for journalists and politicians to tell us about black victimhood and white racism.
The first person to be killed in Soweto was Dr. Melville Edelstein, a liberal Jewish man who was in charge of social work in Soweto. He became a victim of the very people he was trying to help. His name was all but airbrushed out of history, except for making the case that "apartheid made black protesters kill him." White racism forces blacks to commit crimes they would otherwise never consider. The virtually unknown South African Communist Party, flush with Swedish cash, saw an opportunity.
The Soweto riots are now grandiloquently known as "the Soweto Uprising." Edelstein's death, burnt schools and offices, and looted shops and beer halls are now venerated as "heroic deeds by oppressed black youth." Since the death of George Floyd, this pattern is being repeated in America and even in Europe.
Why do blacks riot? This is a question that has been researched in South Africa in days gone by. Books written about it by Afrikaner analysts and anthropologists have been removed as "apartheid ideology" or "racist literature," so we don't know what they said. A few years ago a friend in Cape Town sent me a little volume by Laurens van der Post, The Dark Eye of Africa (1955), consisting of a lecture van der Post gave in Switzerland. He suggested delicately that the African propensity for irrational mob violence has deep psychological roots and that cultural interaction between Europe and Africa has not always been successful. (van der Post's term "dark eye," is a translation from the Javanese mata kelap, which means to run amok and kill everyone in sight.)
I suspect blacks riot for two reasons. The first is their combination of low average IQ and a relative inability to defer gratification. This leads to a smash-and-grab mentality that is reflected in high rates of violent crime. I suspect blacks in Western societies also riot as an expression of hatred for whites, whom they recognize, consciously or not, as capable of living in a superior way.
Whatever their motive, black rioters function as stormtroopers for the far left. Herbert Marcuse already wrote in the 1960s that the Western working class had been co-opted by capitalism and had become "reactionary." In An Essay On Liberation (1969), he put his hopes for "revolutionary action" in disaffected youth, (feminist) women, and blacks, specifically praising the capacity of American blacks to undermine Western civilization.
He wrote:
Thus the blacks "take over" some of the most sublime and sublimated concepts of Western civilization, desublimate them, and redefine them. For example, the "soul" (in its essence lily-white since Plato), the traditional seat of everything that is truly human in man, tender, deep, immortal — the word which has become embarrassing, corny, false in the established universe of discourse, has been desublimated and in this transsubstantiation, migrated to the Negro culture: they are soul brothers, the soul is black, violent, orgiastic; it is no longer in Beethoven, Schubert, but in the blues, in jazz, in rock 'n roll, in "soul food." Similarly, the militant slogan "black is beautiful" redefines another central concept of the traditional culture by reversing its symbolic value and associating it with the anti-color of darkness, tabooed magic, the uncanny. (pp. 36-37)
Today the liberal elite have adopted Marcuse's precepts. They are hostile to working-class whites and deride Trump voters as "rednecks" who do not understand progressivism preached in the universities and the media. Today we clearly see the workings of what Marcuse called the "black, violent, orgiastic" soul. Violent mobs are advancing the liberal program of creating a climate of disorder and even revolution so that radical progressives can come to power. It worked in South Africa. Could it work in America, or even in Europe?